Magnetic Strainer OISm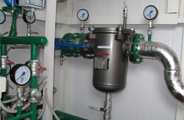 Magnetic Strainer OISm is a device, which functions as a magnetizer and a magnetic-reticular filter at the same time. It was designed mainly for magnetic water treatment and simultaneous separation of impurities from water heating and cooling systems. The device allows to obtain satisfactory results without handicapping the necessary circulation. The filter shows excellent operation results, particularly the minimization of sediment-forming processes together with highly effective separation of contaminations of a very high comminution, and so is considered one of the leaders among such devices as magnetizers, magnetic filters, magnetic separators, etc.
The appliance is installed in heat exchange units, in order to secure highly efficient, long term and faultless operation, mainly of heat exchangers, pumps, control and measurement instruments.
Filter's construction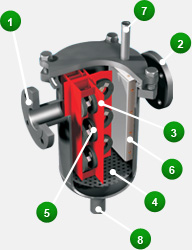 cylindrical tank with inlet (1) and outlet (2) stub pipe
steering partitions (3)
sieve bottom (4)
flat magnets situated on the partitions' walls (5)
reticular filter (6) screening the outlet stub pipe inside the tank
flat cover screening the upper part of the tank together with vent stub pipe (7)
bottom with straining stub pipe ending the bottom part of the tank (8)
Tank cover, partitions and reticular filter have been made separately in order to enable efficient cleaning of the strainers.

Magnetic Strainer OISm in the range of OISm 150/25 to OISm 250/80 are also manufactured of stainless steel, by labelling OISm INOX.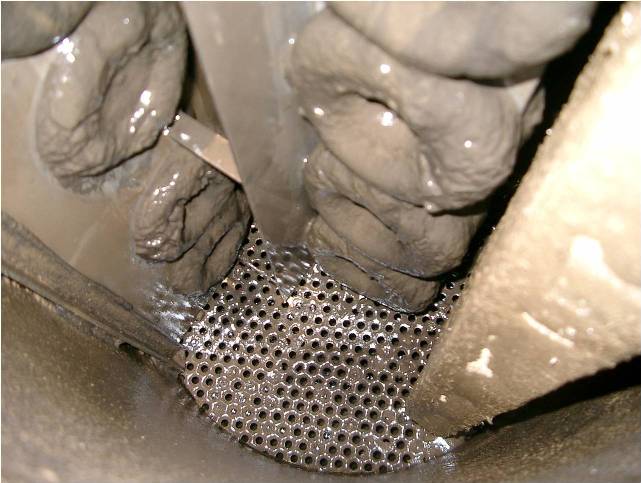 Inside the device, circulatory liquid (usually water or its solution) encounters a labyrinth of partitions, which forces its certain direction and speed of flow. Fixed to partitions' walls, appropriately oriented magnetic elements simultaneously realize the process of magnetic treatment and highly effective separation of already existing or newly formed magnetic sludge.
The outlet stub pipe is screened with a reticular filter with a large working surface, in order to separate potential non-magnetic solid phase of granulation depending on applied bandwidth of the filter's mesh.
The appliance is a combination of a magnetizer, magnetic and reticular filter and inertia-sedimentary elutriator. This unique construction enables maximal limitation of contamination in circulatory liquid and helps to effectively block sedimentary processes on the inner surface of the elements of heat transport and exchange.
100% of the liquid supplied to the device is subjected to magnetic treatment and magnetic-mechanical filtration
ability to separate micron particles of the suspension in magnetic traps while the nominal value of the flow is preserved for the entire series of magnetic filters OISm
slow increase of nominal pressure drop (average 3 kPa) is caused only by the extent of filter's mesh contamination (in heating and cooling installations non-magnetic solid phase practically constitutes no more than 5% of the total contamination mass)
use of magnetic treatment of circulatory water (induction B and speed of flow V) is an anti-sedimentary action against boiler scale forming out of water, inhibits corrosive processes and comminutes old calcareous and corrosive sediment accumulated in installation before magnetic filter was applied
the magnetic filter doesn't require any form of energy supply, and its exploitation makes the corrosion reduction processes absolutely environment friendly (minimizes or eliminates the need to apply corrosion inhibitors)
One of the many examples of how heating facility operation has been effectively improved through the application of strainers OISm is Heating System of Knurow Town.
In 1997, a high-parameter circulation was equipped with 28 strainers type OISm of a total efficiency comprising about 62% of entire circulating water stream. As a result, the amount of suspension during one heating season fell from 15 mg/l to 2 mg/l and stabilized at the level of 40% of the standard value. It is worth mentioning, that such a low level of suspension is maintained until now without any further actions necessary (such as chemical cleaning of the installation, applying corrosion inhibitor, etc.) other than periodical cleaning of magnetic filters.