NDT of welded joints
The Diagnostic Laboratory carries out testing of welded joints in: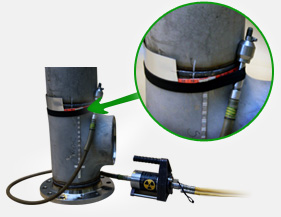 heating pipelines,
pipelines of chemical installations,
pressure vessels and boilers,
constructions of bridges and viaducts,
installations of pipelines in shipbuilding industry,
welders' experimental and examination joints,
other constructions.
Types of conducted testing of welded joints:
visual according to PN-EN 970,
radiographic X-ray according to PN-EN 1435,
radiographic isotopic according to PN-EN 143,
ultrasonic measurements of thickness of steel constructions,
bending tests according to PN-EN 910.
The Diagnostic Laboratory holds:
Certificate of Approval of second degree and is registered in
the Central Laboratory of Technical Inspection at the number LB-155/06,
Certificate of Approval of Polish Register of Ships no. TT/354/710405/07.
Contact
OŚRODEK BADAWCZO-SZKOLENIOWY
SPAW-TEST® Spółka z o.o.
ul. Śnieżna 1, 80-554 GDAŃSK
tel/fax (058) 343 77 45, 343 77 43
e-mail: spawtest@spawtest.pl
e-mail: biuro@spawtest.pl
Other products
Thermoinsulations
We also offer thermal insulations for Magnetic Strainer OISm.
read more
Acetylene fuses
BWS-D-4-0, 15 fuses protect acetylene generators and installations.
read more
Other services
NDT of welded joints
Our Diagnostic Laboratory conducts non-destructive tests of welded joints.
read more
Pressure vessels and steel constructions
We make different types of vessels and steel constructions according to the client's documentation.
read more