Thermoinsulation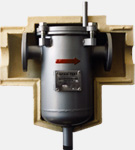 In order to reduce energy loss during exploitation of Magnetic Strainer OISm we offer the so-called hard thermoinsulation. Insulation is made of polyurethane foam. Divided housing enables an easy assembly and dismantling of the device. Needs finishing (painting or lamination). Hard heat insulation is intended for Magnetic Strainers type OISm in the range of OISm 150/25 to OISm 400/100. Available.
Contact
OŚRODEK BADAWCZO-SZKOLENIOWY
SPAW-TEST® Spółka z o.o.
ul. Śnieżna 1, 80-554 GDAŃSK
tel/fax (058) 343 77 45, 343 77 43
e-mail: spawtest@spawtest.pl
e-mail: biuro@spawtest.pl
Other products
Thermoinsulations
We also offer thermal insulations for Magnetic Strainer OISm.
read more
Acetylene fuses
BWS-D-4-0, 15 fuses protect acetylene generators and installations.
read more
Other services
NDT of welded joints
Our Diagnostic Laboratory conducts non-destructive tests of welded joints.
read more
Pressure vessels and steel constructions
We make different types of vessels and steel constructions according to the client's documentation.
read more